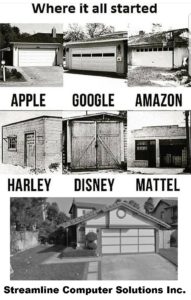 At Streamline Computers, we specialize in Sales, Service, Security, Network Design, Installation and Maintenance, Remote Support Solutions, Website Development, Hosting & SEO, Digital Video Surveillance/Security Camera, Virus Detection, Removal and Protection & Smart Homes.
With service available in most areas of Southern California, you can add an "Information Technology" department to your company right now
We can place your small to medium size business on the same high-tech playing field as the big guys, with computers, accessories, software, security and Internet services that you may have thought were out of your company's reach.
We can make regular service visits to maintain your company network and take care of any issues you have on your system in addition to other emergency service work you may require.
Do you need to expand your office computer network capabilities? Since 1988, Streamline Computers has been building rock-solid networking solutions for many types of businesses.
Does your company have a website more than 1 year old? Streamline Computers also specializes in putting a "fresh face" on older web sites, and adding features that will make your company look like a FORTUNE 500 Top Ten Member.
Is your computer network vulnerable to "Cyber Attack"? Not really sure? Call us today for a review of your company's network. Streamline Computers can build a new level of protection for your company in these uncertain times.
Are you just in need of a faster computer system that can keep pace with "Internet Applications"? Streamline Computers can build a new machine to your exact specifications, whether it's a personal workstation or a high-speed server.
We look forward to helping you.